Two Ways to Share Nook Book with Friend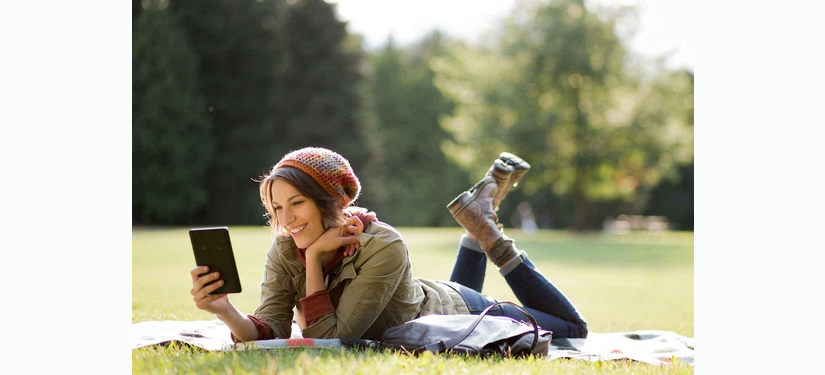 Nook Book
•
Share with Friend
Is it possible to share Nook Books with friends? Undoubtedly, this is a very common question for Nook users. But the way we borrow & lend eBooks is different from the traditional ones. So how can we share Nook Books? This article will show you two ways about this question:
1. Share NOOK Books by using LendMe
The LendMe is a function for Nook users to borrow and lend certain eBooks with friends or family who also own Nook accounts (with a valid credit card saved). And the following is a detailed introduction to share Nook Books by using LendMe.
Step 1: Turn on Nook and click the "Library" button on the left-hand side.
Step 2: Press and hold the cover of the book that you want to lend out, then your eBooks will be marked with "Lend Me" on the cover.
Step 3: Click the "Settings" icon on the book cover, then choose the "LendMe" option.
Step 4: After that, you will be navigated to the Lend Offer page and just enter your friend's e-mail address associated with his BN.com account in the space provided, and click the "LendMe" button again to share your eBooks.
Note: Before using the LendMe to share Nook Books, you need to know that there will be some limitations on this feature:
1. During the time to lend, you cannot access your eBook when you lend it to your friend.
2. 14 days is the longest time for your eBooks to lend out.
3. Not all the eBooks are available to be lent out, it is up to the different distributors entirely.
4. NOOK Magazines and NOOK Newspapers cannot be lent or borrowed.
---
2. Share NOOK Books with PDFMate eBook Converter
Through method one, we get that there is a lot of limitations with Nook's LendMe. So is there any other way to share & transfer our Nook eBooks freely? Absolutely! The following you will get a brand-new program, PDFMate eBook Converter, to convert your Nook library to open format so that you can share Nook Books easily.
What's PDFMate eBook Converter? It's a professional eBook helper, especially for those who need to convert eBooks from Kindle, Adobe, Kobo & Nook into open formats like EPUB, Mobi, PDF, TXT, AZW3, as well as KFX. Moreover, this tool can also act like a normal ebook converter, helping you convert PDF, HTMLZ, PRC or DOCX (up to 24 formats) file to five formats. If you are exactly looking for an eBook tool to convert your Nooks Books to open files for sharing & transferring, PDFMate eBook Converter should be the best choice.
How to Buy and Read Kindle Books on iPhone or iPad
How to Share Kobo eBook with Friend
---
eBook Converter Pro.
The most powerful eBook converting tool, specially designed for users to remove DRM from Kindle, Adobe, Kobo, Nook eBooks and convert them to various formats, including EPUB, MOBI, PDF, AZW3, TXT and KFX effortlessly.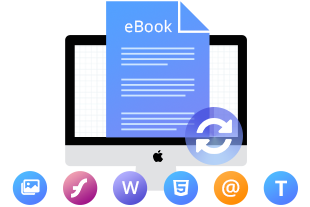 ---
How to Convert Nook Book via PDFMate eBook Converter
PDFMate eBook Converter is featured with a concise and intuitive interface to help you convert eBooks easily. Before getting started, please download PDFMate eBook Converter first.
How to Convert EPUB to TXT
How to Remove DRM from Kindle Books
Step 1: Add Nook Book to PDFMate eBook Converter
Open PDFMate eBook Converter and connect your Nook eReader to computer. Then click 'NookPC', the program will automatically detect and list all your book collection in the left panel, now you can select books to convert. Or click the 'Add Files' button on the top left corner, you can also import Nook books from computer to the program.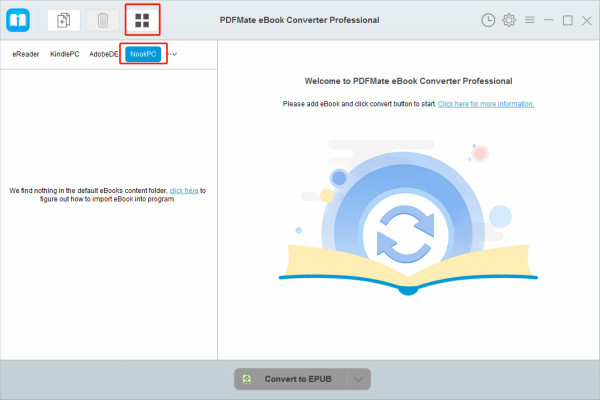 Step 2: Select Output Setting
Click the "V" icon on the bottom and select the output format for your eBooks, here you can choose your preferred output format. And please click the 'Setting' button on the upper right corner, here you can customize the output path for the converted eBooks.
Tips: You can also click the 'Edit' button to edit all the important and useful meta information before conversion, including title, author, publishing date, publisher, etc.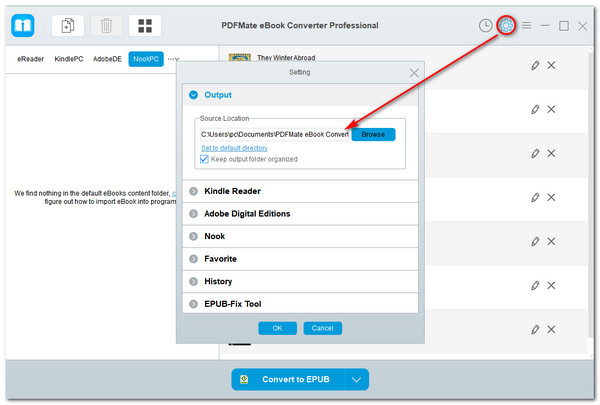 Step 3: Start Converting Nook Book
After selecting the settings, please directly click the "Convert" button, then PDFMate eBook Converter will start converting the selected Nook Books quickly.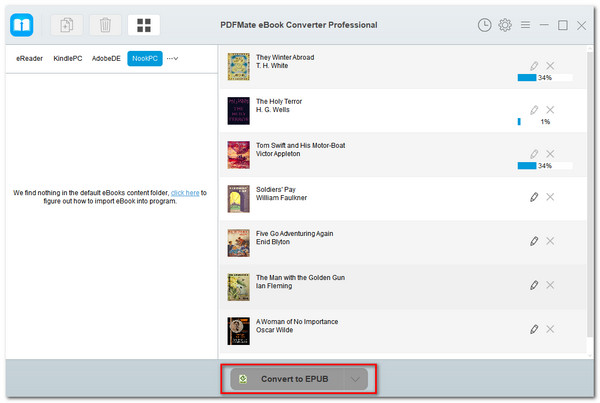 When the conversion is complete, you can find your converted Nook Book by clicking the 'history' button.
---
Conclusion
If you expect to convert Nook Book to unrestricted eBook formats for sharing with friends, PDFMate eBook Converter must be the best tool for you. With it, you can also transfer your Nook library to other devices for reading freely.
Note: The free trial version of PDFMate eBook Converter enables users to convert one book at a time. You can unlock the limitations by purchasing the full version. Of course, it is suggested to download the trial version first to test whether it meets your needs for converting.
For more information about eBook Converter Professional, please visit http://www.pdfmate.com/ebook-converter-professional.html.
---
Recommended Products