How to Free Encrypt & Protect PDF Files with Password?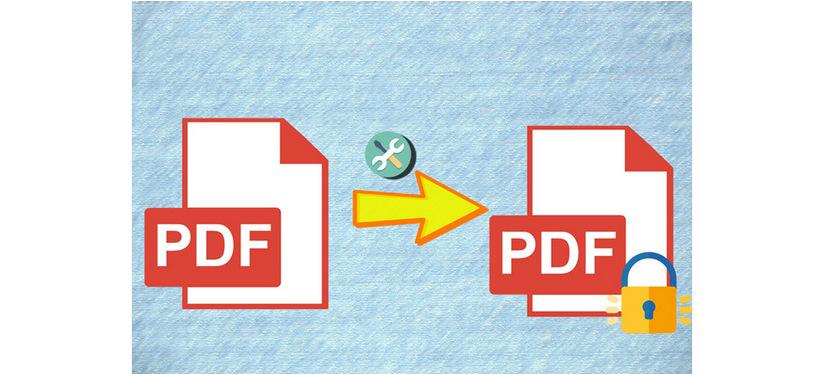 Free Merger
•
Encrypt PDF
1. Is there an easy way to encrypt a PDF?
I need to be able to send my parents a copy of some documents I have in PDF format, but I want to ensure privacy and encrypt them first. Is there some easy way to do this?
2. Is there a way to encrypt PDF without acrobat?
I'm trying to prevent people from coping my PDF files or printing them out but I don't have Acrobat. Is there another way I can protect them without it? I have windows, powerpoint, windows XP. Is there a free LEGIT website that can help me?
3. How to encrypt a PDF file?
How to secure a PDF file by encryption so as to deny copying or printing of the data from the file?
Here we introduce two methods to encrypt PDF files?
 Encrypt PDF Documents using Acrobat X Pro
 Encrypt PDF Documents using PDFMate Free PDF Merger
How to Buy and Read Kindle Books on iPhone or iPad
How to Convert KFX eBooks to TXT
---
Method 1.  Encrypt PDF Documents using Acrobat X Pro
Step 1. Open or Create the PDF document
Step 2. Click on "Tools", then choose Protection -> Encrypt -> Encrypt with Password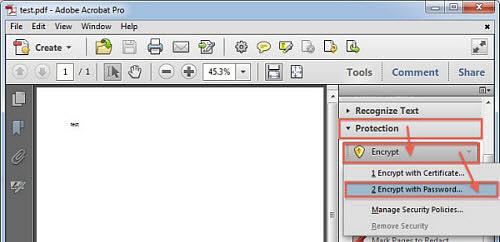 Step 3. If a dialog box appears asking for "Applying New Security Settings", click "Yes".
Step 4. Choose "Acrobat X and later" (Recommended Option), if the recipient is using Acrobat X or Acrobat Reader X or later. Otherwise, select "Acrobat 7.0 and later" for better backward compatibility.
* Ensure that "Encrypt all document contents" is selected.
* Ensure that "Require a password to open the document" is checked.
Step 5. Type in a password in the "Document Open Password" field. Then click "OK".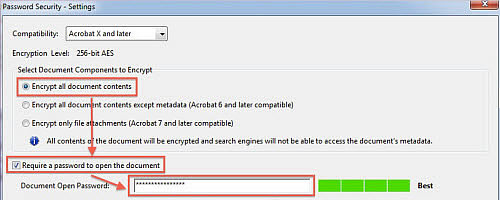 Step 6. Reenter the password you have chosen and click "OK". If a dialog prompts stating that the security settings will not be applied to the document until you save the document. Click "OK". Then, save the PDF document by clicking on "File" -> "Save". And verify that "(SECURED)" appears in the title bar.
Method 2. Encrypt PDF Documents using PDFMate Free PDF Merger
PDFMate Free PDF Merger is an easy but powerful program for merging multiple PDF files into a single one, convert images to PDF files, split PDF pages, and encrypt PDF with a new password for protection.
Step 1: Add Source Files
Click the button "Add PDF", and add the PDF files you want to add password. If you only want to extract some specific part of the original PDF files and encrypt, click "Change Page Range" or right click the PDF, then you can specify page ranges in the pop-up window.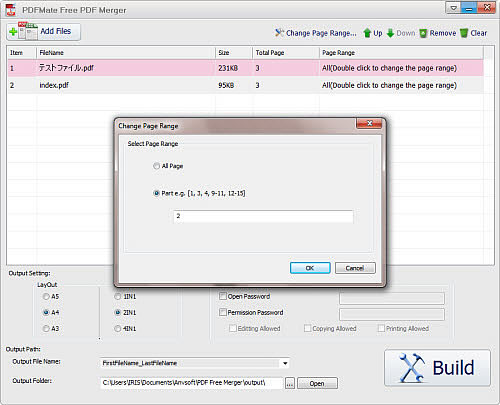 Step 2: Customize output settings
Below the file list, there is an area marked as Output Setting with which you can customize PDF output. The layout area in this section is for defining the PDF printing paper types. You can choose to output PDF in A3, A4, and A5 style sheets. You are also able to choose output of pages with 1-in-1, 2-in-1 or even 4-in-1 arrangement. By doing so, you can print PDF in a more economically and environment-friendly way, saving lots of time and sheets of paper.
Encrypt PDF File
On the right is a Security section which allows you to set password for protecting PDF file.
- Check Open Password, you can set a password for opening PDF.
- Check Permission Password, you can set a password for either PDF processing actions like editing, copying or printing.

With these settings, you can output a confidential PDF file with high-security assurance. No one could read or process your PDF file without your permission.
If all options are well set and the PDF is ready for export, you can go to Output Path section.
Step 3: Start to create and encrypt PDF
After inputting a name for your PDF file in "Output File Name" and defining the output path in "Output Folder", just click on "Build" button. Then this Free PDF Encrypt Software will do the rest for you. When the conversion is complete, a window will pop out and show you the encrypted PDF file location.
Tips:
If you want to watch your PDF documents on your iPhone/iPad/iPod Touch, Free iPhone/iPad/iPod manager will help you in need. Free iPhone/iPad/iPod manager is a free iTunes alternative, which can easily manage iPhone, iPad and iPod without iTunes and transfer music, videos, photos, apps, ebooks, contacts, messages and more between iOS devices and Windows PC.
---
Recommended Products