Fix the Problem of Kindle License Reached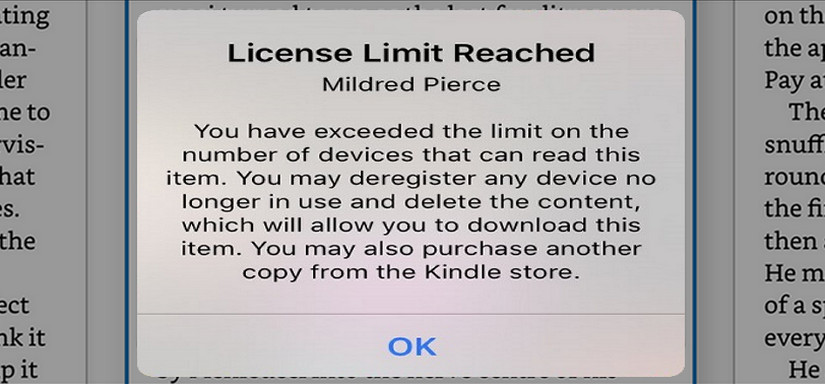 Amazon Kindle
•
License Reached
Have you ever tried to download a Kindle book but failed because it says the license limit was reached? It always happens when you are intending to download Kindle books for offline reading on many devices at the same time. Most Kindle books have a license limit and can only be downloaded on up to 6 devices at the same time, and some books are even less than that number. What's more, as long as the device that you're using has internet connectivity, the various devices on which you might be reading a Kindle book will keep themselves in sync. If you try to download the Kindle book on the seventh device, you will get the license reached warning message. So what you can do is to delete Kindle books from one of your older devices or apps, then authorize your new device to download books.
You may get frustrated that you cannot keep the Kindle books on the older device. Actually, you don't own the Kindle books that you purchased on any device, you just get the license to read these digital books on Kindle. If you want to keep Kindle books on the older device, you should download real books from Kindle. Luckily, there is an PDFMate eBook Converter that can help you get ordinary Kindle books. Please keep following this article, we will show you how to use the eBook converter to save Kindle books without worrying about the limits of Kindle license.
Tool Requirement: PDFMate eBook Converter
PDFMate eBook Converter is a professional eBook converter designed to convert eBooks from Kindle, Kobo, Nook, Adobe, and other sites to different formats, like EPUB, PDF, MOBI, TXT, AZW3, and KFX format. Besides, it supports to automatically detect the eBooks when you connect the e-reader to your computer and can convert them to ordinary format in batch. It is the best program for you to convert Kindle books.
How do I Open AZW3 File as PDF
How to Get Free Books from Amazon Kindle
---
eBook Converter Pro.
The most powerful eBook converting tool, specially designed for users to convert eBooks from Kindle, Adobe, Kobo, Nook eBooks and convert them to various formats, including EPUB, MOBI, PDF, AZW3, TXT and KFX effortlessly.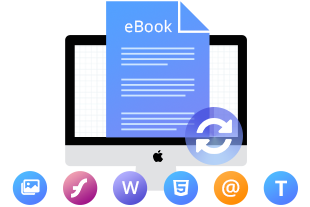 ---
How to Transfer Kobo Books to Nook
How to Converter Kobo Books to EPUB Format
How to Convert Kindle Books with PDFMate eBook Converter
Step 1. Add Kindle Books to PDFMate eBook Converter
Click the "Add eBook" button on the upper left, there will be a pop-up window displays all the eBooks on your computer. Select the books you want to convert and add them to PDFMate.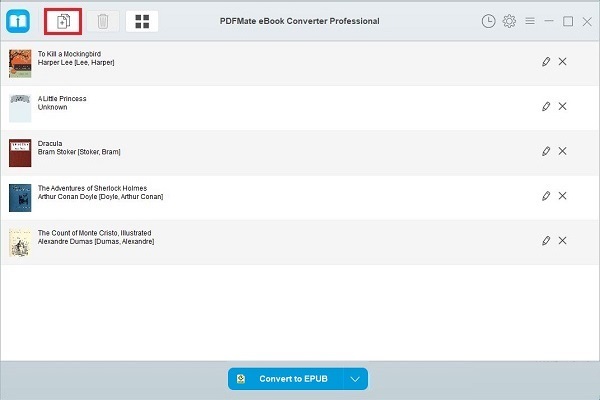 Step 2. Set Output Format and Output Path
Click the "V" icon at the bottom and select the output format. Here we select the option of "Convert to EPUB". If you want to change the file location, click the "Settings" button to set the output path.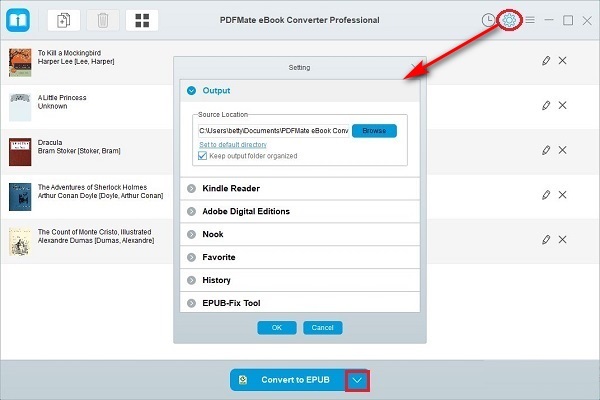 Step 3. Start Converting Kindle Books to the Computer
Now you can start to convert Kindle books by clicking the "Convert to EPUB" button. When the conversion is done, you can find the converted files by clicking the "History" button to check if you have get those books successfully.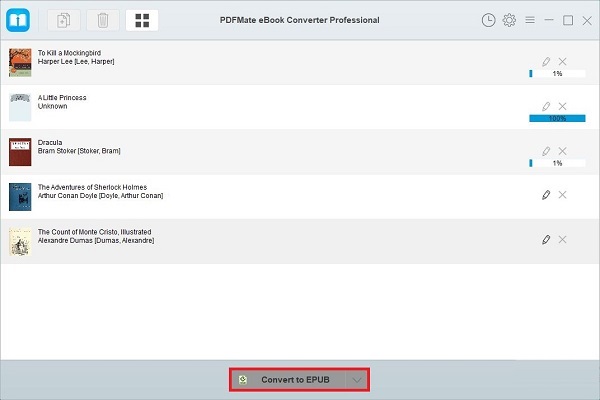 ---
Conclusion
With the help of PDFMate eBook Converter, you can easily convert Kindle books to different formats and get rid of the trouble of Kindle license limitation. Now you can upload them to any device you have without limits.
Note: The free trial version of PDFMate eBook Converter enables users to convert one book at a time. You can unlock the limitation by purchasing the full version. Of course, it is suggested to download the trial version first to test whether it meets your needs for converting.
For more information about eBook Converter Professional, please visit PDFMate eBook Converter Professional.
---
Recommended Products