How to Read Nook Book on Kindle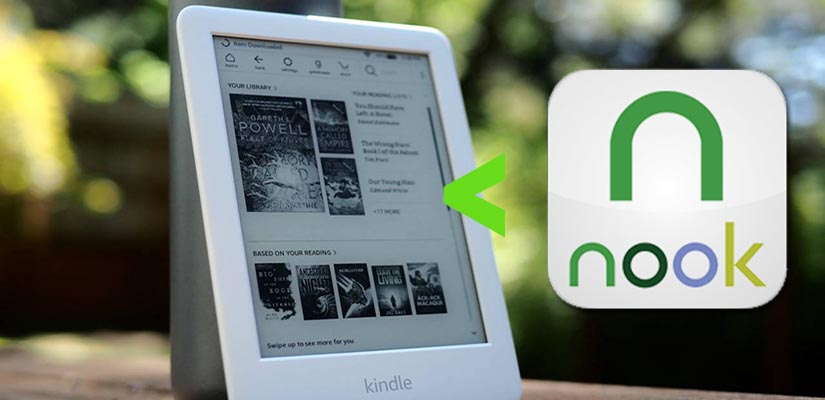 I have many eBooks within my Nook e-reader, but how can I read them on my new Kindle?
It is simple to purchase and read books on your Nook, but read Nook books on Kindle need extra assistance. Because of Nook applies encryption technology on their books for protection, as same as Amazon Kindle and Kobo, you are not allowed to transfer them to your new Kindle. Moreover, most of Nook books saved in EPUB format that does not supported by Kindle, which means you need to convert Nook books to Kindle supported format – TXT, PDF, MOBI, KFX, AZW3, etc. Thus, you need a tool to decrypt and convert the Nook book that enables you to read them on Kindle.
Today, we are going to share a smart tool, PDFMate eBook Converter, that can convert Nook books to Kindle supported format. This tool also enables you to transfer or save Nook books without any limitations.
PDFMate eBook Converter Professional
PDFMate eBook Converter is a professional and powerful tool that can help to convert eBooks from Kindle, Adobe, Kobo & Nook to EPUB, MOBI, PDF, TXT, AZW3, and KFX format. Meanwhile, this tool also supports to convert PDF, HTMLZ, PRC, or DOCX (up to 24 formats) files to common eBook formats. With PDFMate eBook Converter, you can save you Nook Books in KFX, MOBI, and AZW3 formats and read them on your new Kindle.
How to Read Kobo Books on Kindle
---
eBook Converter Pro.
The most powerful eBook converting tool, specially designed for users to remove DRM from Kindle, Adobe, Kobo, Nook eBooks and convert them to various formats, including EPUB, MOBI, PDF, AZW3, TXT and KFX effortlessly.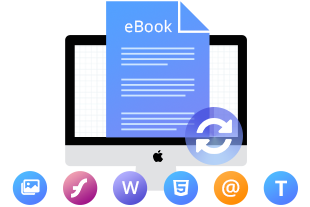 ---
How to convert Nook books to KFX
This tutorial will show you how to use PDFMate eBook Converter to convert Nook books to KFX format. Please download PDFMate eBook Converter Professional before getting start.
Step 1: Add Nook Book to PDFMate eBook Converter
Launch PDFMate eBook Converter and connect your old Nook to your computer. Then, click 'NookPC' to let the program automatically detect and list all your book collection in the left panel. Now, please select the books to convert. Or click the 'Add Files' button on the top left corner, you can also import Nook books from computer to the program.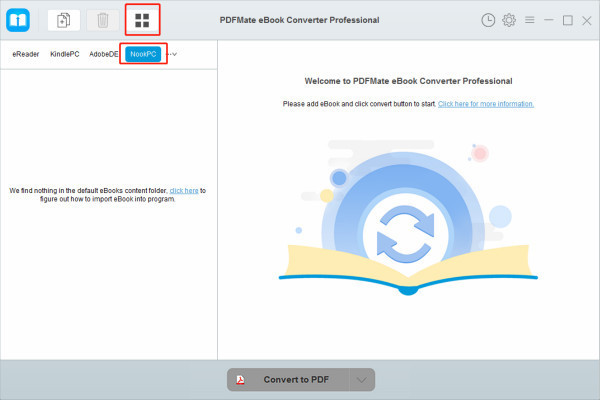 Step 2: Choose Output Format and Adjust Settings
Click the 'Setting' button on the main interface, and then there will pop-up a window allowing you to change the output folder as required and set Source Location of your eBooks. Then, please click the 'V' button next to the 'Convert' button to set the output format as KFX.
Tips: You can also click the 'edit' button to edit all the necessary and useful meta information before conversion, including title, author, publishing date, publisher, etc.
Step 3: Convert Nook Books to KFX Format
Now, click the 'Convert' button, then the program will start converting the Nook books to KFX effortlessly.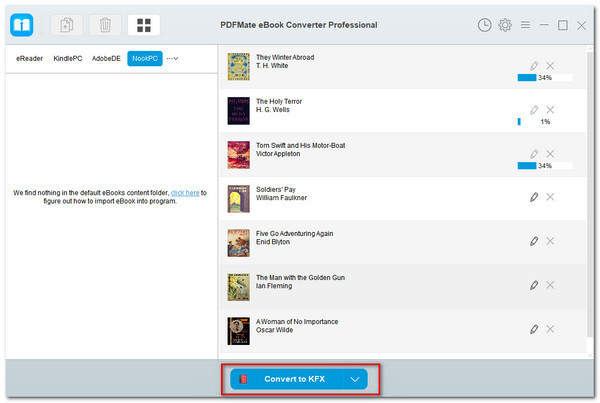 When the conversion is complete, you can find all unrestricted eBooks in KFX format by clicking the 'history' button.
With this most potent eBook converter, you can convert Nook books to KFX or other formats easily. Then, you can transfer them to your new Kindle device to enjoy your Nook books. Meanwhile, you can also use this tool to convert Nook books to commonly used eBook format and read them in all your devices.
Note: The free trial version of PDFMate eBook Converter enables users to convert one book at a time. You can unlock the limitations by purchasing the full version.
For more information about eBook Converter Professional, please visit http://www.pdfmate.com/ebook-converter-professional.html.
---
Related Articles
---
Recommended Products