Best PDF Creators for Mac
Question:
I am making an e-newsletter for my blog but users are complaining that my large .html letters are too big so I resorted to a downloadable magazine but they are publisher files and most people are using macs or windows without publisher and I have a mac and need a FREE PDF maker for mac or something like cute PDF that you can go file print and save it as a PDF.
---
Solution 1. Apple's Preview
Mac users can use a free Mac PDF creator - Preview application, which is default installed in all Macs, to create PDF on Mac OS X effortlessly.
Below is how:
1. Open the file you want to create to PDF;
2. Click File > Print;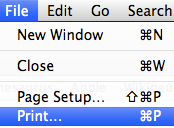 3. Click PDF button and choose Save as PDF option at the bottom of the pop-up box.
Then you can enter a descriptive name and choose a file folder as the location for created PDF files. Just in three simple steps, you can create PDF on Mac with Preview application in seconds.
Preview is the built-in PDF viewer on Mac. In addition to quickly creating PDF files, Preview on Mac OS 10.5 (Leopard) allows you to annotate PDFs (highlight sections, add notes or links), rearrange PDF pages, merge PDFs, and add keywords to your file for easy searching from Finder. Preview is also a pretty decent image viewer with some editing capabilities.
Solution 2. Easy PDF Creator

Would you like to create PDF files with your mac, but don't want to spend hundreds of dollars purchasing Adobe Acrobat Standard? You can save money by using our free program to create PDF files on your Mac. The application is a simple, lightweight, drag-and-drop application that will make a PDF file out of most image and text files. You can drag multiple files onto the program at once - facilitating batch mode processing. You probably know that you can create PDF files with Preview - but Preview does not lend itself easily to batch mode processing.
Solution 3. PDF Creator for Mac
With PDF Creator for Mac, you can create Adobe PDF documents from any text and image files with easy-to-use operations and stunning fast speed. What's more, it also enables you to import multiple files for converting at one time. In this way, you can highly improve your working efficiency on conversion.
Solution 4. Docudesk PDF Creator
Docudesk's deskPDF has been the leading PDF creation app since 2003, with millions of users worldwide. Award-winning and critically-acclaimed, some have said deskPDF has a "zenlike" simplicity while including many powerful features. Easy enough to use without reading a manual, simply print or drag and drop to create 100% Adobe-compatible PDF files in one step. Power users will appreciate deskPDF Creator's many advanced features including merging, watermarking, custom profile workflows and PDF security options.
Solution 5. FlipBook Creator Standard for Mac
FlipBook Creator Standard for Mac is very powerful, but simple to use. With our software you have complete control over the appearance of your Flip Book. This easy to use Mac OS application will help you build a fantastic Flip Book quickly - with dozens of settings, you'll be able to produce and distribute your Flip Book in no time. Our software also allows your users to share your Flip Book via numerous Social Networking sites – all with the press of a button.
---
Related Articles
---
Recommended Products