Kindle vs. Nook: Which one is Better?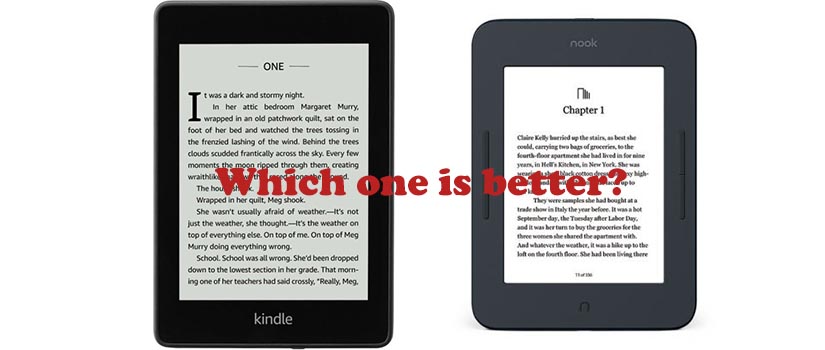 The sales of eBooks and e-readers continue to increase at a rapid rate, which means there are more people are turning to digital content. The choice of eBook reader is much more important to make sure it meets your needs. Hereby, we would like to help you to know how to choose between Amazon Kindle and Barnes & Noble Nook.
Kindle vs. iPad
Kindle vs. Kindle Paperwhite vs. Kindle Oasis
Comparison between Kindle and Nook
Cost
The price of an e-reader is the majority thing effect of all our buying decisions.
Nook (Brand of Barnes & Noble) and Kindle (Brand of Amazon) both offer a variety of different models of e-reader. The price of Kindle is between $79, 99, and $249, 99, including models of Kindle (entry-level), Kindle Paperwhite ($129, 99), and Kindle Oasis. The price of the Nook e-reader is start from $119, 99 to $199, 99, which are GlowLight 3 and GlowLight Plus. The other Nook devices are all Android tablets, which compete with Amazon Kindle Fire series tablets in the market.
Thus, we put Kindle Paperwhite into competition with Nook GlowLight 3.
Screen
The screen used by e-readers is the electronic paper, which is the best screen for longtime reading.
The screen size of both devices are six-inch. It might not be larger enough; then, there are two choices for you are Kindle Oasis with a seven-inch screen and GlowLight Plus with 7.8-inch. All of those devices provide a screen resolution of 300 DPI. On the other end of the scale, you can also consider the entry-level Kindle, $50 lower than Kindle Paperwhite, if you are happy with a lower resolution (167 DPI). The screen size is still six inches.
Battery Life
The battery life is the same for both of them, which is up to 6 weeks on a single charge. For all kinds of e-readers, you don't need to worry about the battery life. All of them can last for a few weeks on a single charge.
Audiobooks
There is a fast growth in popularity who listens to audiobooks over the last few years. There are more than a quarter of the U.S. population has listened to an audiobook in the last 12 months. Thus, the e-reader can access to audiobooks is an essential feature for you when you are choosing an e-reader. The Kindle is the winner since the latest generation of Kindle models support to play audiobooks via headphone and through Bluetooth.
If you would like to play audiobooks on Nook, you need to choose the other tablet devices in the Nook range.
Supported Format
There are lots of eBook formats, such as EPUB, MOBI, KFX, PDF, AZW3, etc. The compatibility is important when you choose an e-reader.
The Kindle supports Amazon's proprietary AZW, KFX, and MOBI format, as well as DOC, TXT, PDF, RFT, and HTML. However, it does not support the most popular eBook format, EPUB.
Nook devices support to read eBooks in EPUB and PDF format.
Despite the differences, it is possible to read books on both devices regardless of format with PDFMate eBook Converter.
Other features
The storage entry-level for both devices is 8GB, but you have the option to choose the 32GB version of Kindle Paperwhite. In general, 8GB is enough for you to store your eBooks when you unable to renew your library.
The two devices each come with their additional apps and features.
Kindle provides functions of in-book dictionary definitions, the Word Wise vocabulary builder, and the X-Ray scanner. The Nook delivers features of Night mode (to prevent eye strain) and discover content automatically with B&N Readouts program. Besides, users have access to change font, text sizes, and backlight option on both devices.
In addition, Kindle Paperwhite has the waterproof function that can be submerged for up to one hour in two meters of water. Thus, you can use Kindle Paperwhite to enjoy reading in the bath, as well as use it by a pool or on a beach while on vacation.
Which one is better for you?
So, to come full circle, which e-reader is better for you? In our opinion, the Amazon Kindle is better than Barnes & Noble Nook. The Amazon Kindle is faster, easier to use, and has access to more eBook format, even though Nook has some nice touches. Besides, Amazon provides different Kindle models for everyone with different budgets and needs.
How to Read EPUB eBooks on Kindle?
As we all know, Kindle does not support to read EPUB format eBooks. Then, how can we read EPUB eBooks on Kindle? With an eBook Converter, you can easily convert EPUB format eBooks to Kindle supported format - MOBI, KFX, AZW3, PDF, TXT, DOC, etc. Hereby, we would like to introduce a professional eBook converter, PDFMate eBook Converter, that enables you to read EPUB eBooks on Kindle.
How to Read EPUB on Kindle
How to Convert EPUB to AZW3
---
eBook Converter Pro.
The most powerful eBook converting tool, specially designed for users to convert Kindle, Adobe, Kobo, Nook eBooks to various formats, including EPUB, MOBI, PDF, AZW3, TXT and KFX effortlessly.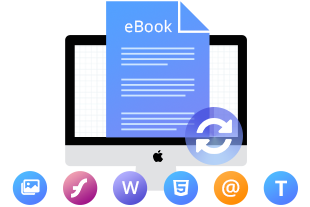 ---
Related Articles
---
Recommended Products