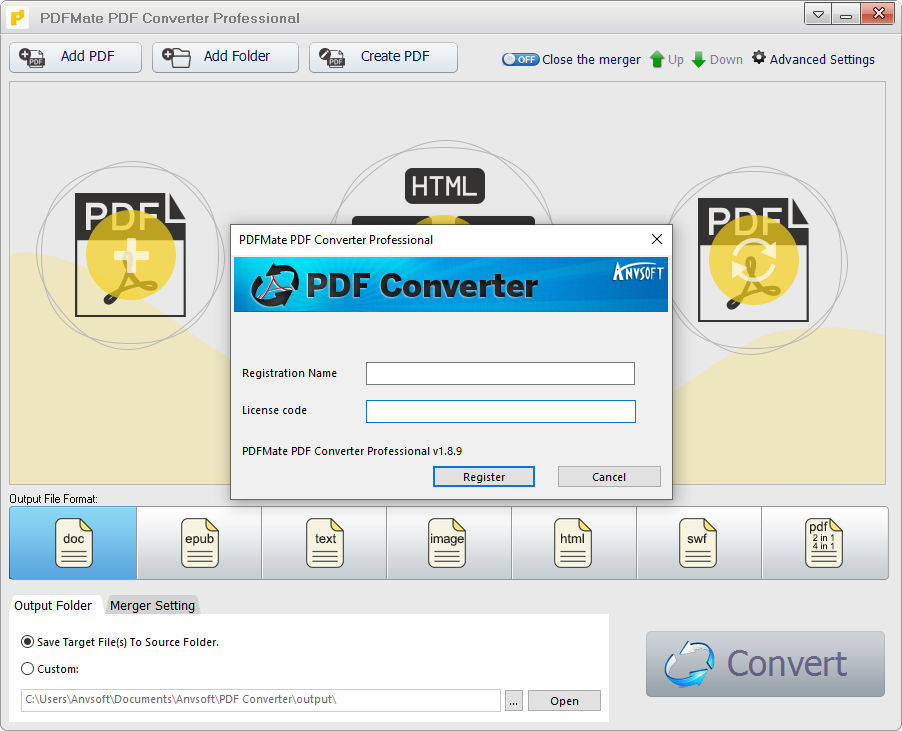 01
Registration
Step 1. Launch PDFMate PDF Converter Professional; then, you will see a concise and straightforward interface.
Step 2. Please click the "Menu" button (on the upper right) > Register. There will be a registration popup dialog, where you can copy and paste the registration email and license code.
Step 3. Copy and paste the E-mail and Code into the registration popup dialog.
Note: The registration information is case sensitive. Please do not add blank at the beginning or the end of the registration e-mail and code.
---
02
Add PDF files or Folders
Please click "Add PDF" button or "Add Folder" button on the upper left of the window; you can load your desired PDF file into PDFMate PDF Converter Professional. Both single adding and batch adding are supported. You can also specify any page of PDF file or page range of PDF document for conversion.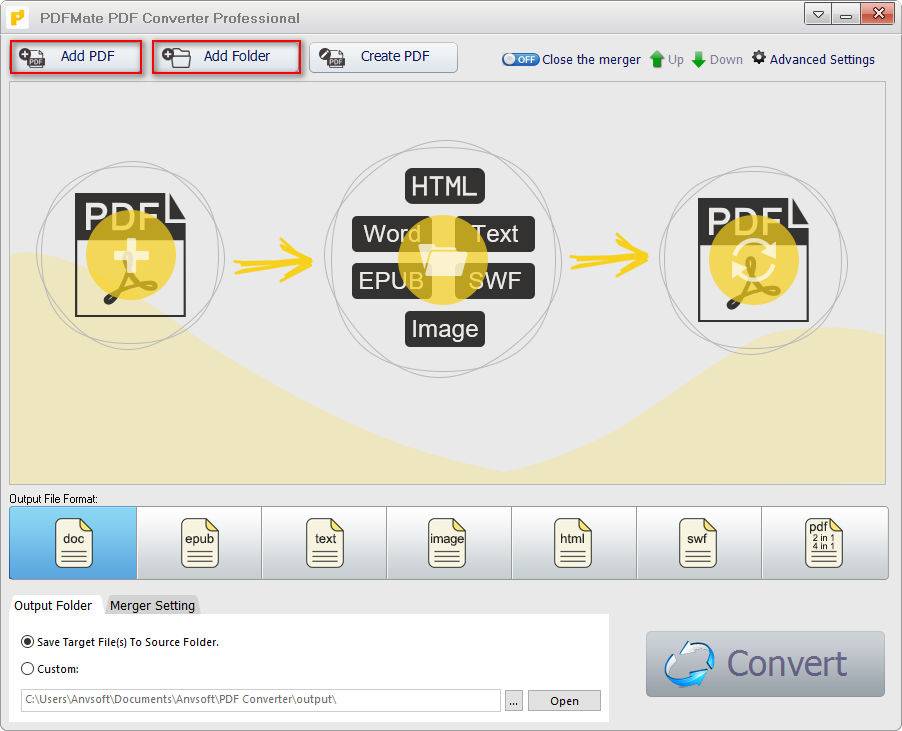 ---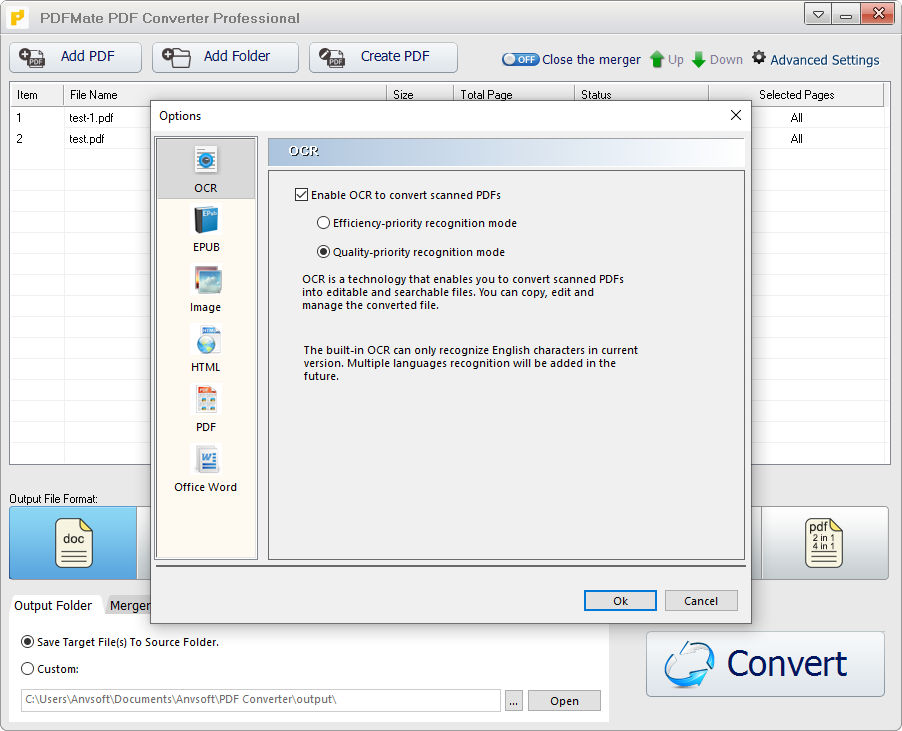 03
Advanced Settings
The PDF file(s) loaded into PDFMate PDF Converter Professional. Then, please click 'Advanced Settings' on the upper right corner to decide the conversion modes. For detailed information of each setting option, please refer to the list below.
---
OCR Setting: Click 'Enable OCR to convert scanned PDFs'. Then, choose recognition mode as Efficiency-priority recognition mode or Quality-priority recognition mode.
PDF to EPUB Setting: Convert each page as an image to EPUB or extract all contents from PDF to EPUB eBooks as same as the original file without hyperlinks (and images).
PDF to Image Setting: Convert PDF file(s) as images (Normal or High Resolution) or extract only images of the original PDF files.
PDF to HTML Setting: Convert the PDF to HTML file(s) with or without hyperlinks/images.
PDF to PDF Setting: Convert PDF files with layout and rotation; set up password for PDF files when opening, copying, editing, and printing files.
PDF to DOC Setting: Convert each page of PDF to Word files as an image or extract all contents from PDF to Word as same as the original files; set up Open/Permission password for Word files.
PDF Merger Setting: Turn on 'Open the merger' and choose merger option between '1IN1', '2IN1', and '4IN1'. Then, select the page ranges for original PDF files and decide the 'File Name' before merging.
---
04
Output format and path
Choose the output format (doc, epub, text, image, html, swf, and pdf) for the conversion and set the output path to save the converted files.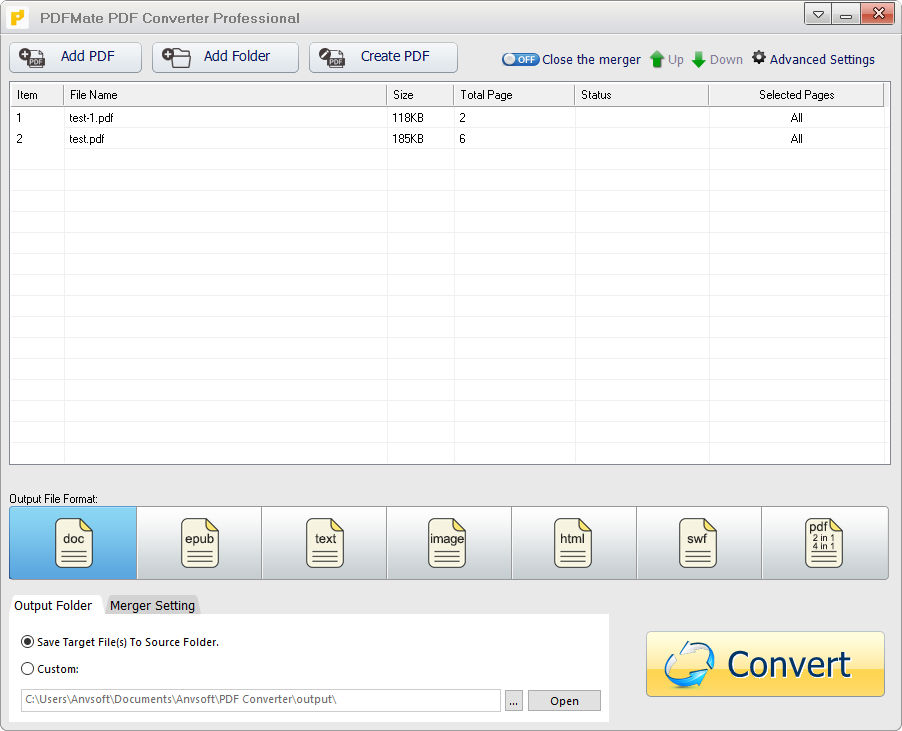 ---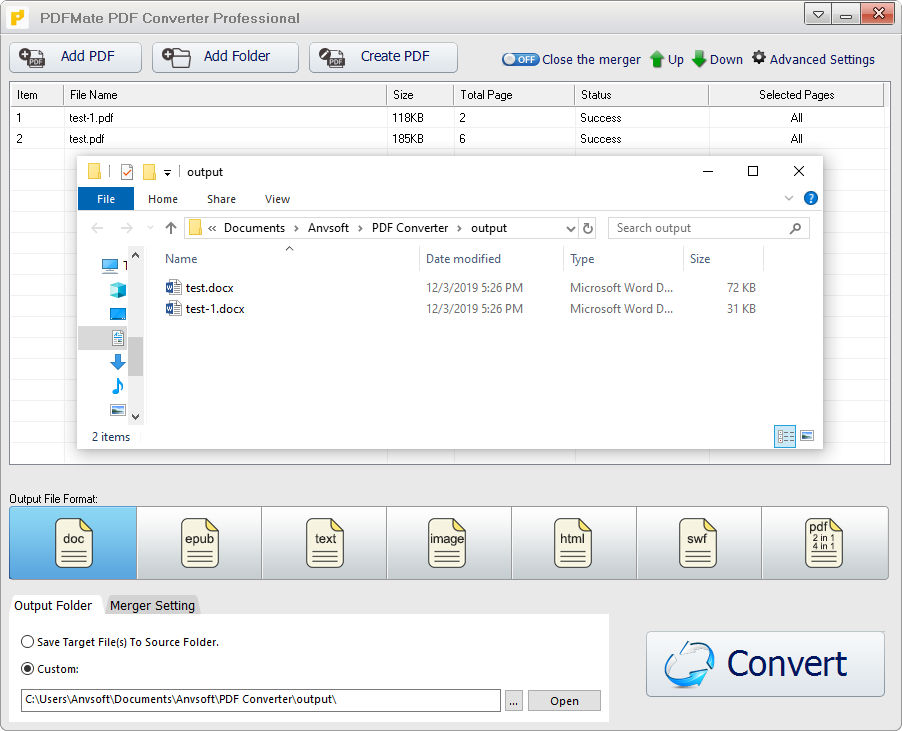 05
Conversion
Click the 'Convert' button to start the conversion. When PDFMate PDF Converter Professional complete the conversion, and you will see the popup windows of the output folder.
---
Create PDF
Step 1. Click 'Creat PDF'.
Step 2. Choose the original file type and add resource folder (file).
Step 3. Decide the output path and click 'Create PDF'.
Note: If you would like to set Open/Permission password, tick the option and enter the password before create PDF.